March 21, 2016
Operational Models and Educational Debt in ATS Seminaries
Why do we care? What do we know? What can we do?
Part Three: What Can We Do?
Over the past two months, we have been looking at the topic of operational models and student educational debt at seminaries within the Association of Theological Schools (ATS).  We've spent some time looking at why we care and what we know.  Today, we continue providing several practical ideas that may help us move forward.
Student debt is a multi-faceted issue, and we believe institutions must attack it from three angles: cost reduction, revenue generation, and curriculum development.  Last week, we looked at revenue generation.  Today, we will dive into curriculum development.
A few weeks back, we noted that no school in our study required students to take courses on biblical stewardship or personal finance.  While reducing the cost to deliver education and increasing revenue will allow us to decrease the price we charge for tuition, our research has revealed that reducing tuition will not alone impact student debt.  We must also require students to learn and think critically about biblical stewardship and personal finance.  We must think differently about the curriculum at our schools.  Here are a few suggestions.
Integrate Biblical Stewardship into Program-level Outcomes
If biblical stewardship is to become something that students study while enrolled in seminary, we believe it must first be integrated into the program-level outcomes for each degree.  This means that a Master of Arts or Master of Divinity will have in its list of program outcomes a requirement that students who graduate will have wrestled with and applied the concepts of biblical stewardship.
Require Courses on Biblical Stewardship, Personal Finance, and Institutional Finance
With biblical stewardship explicitly stated as a degree program outcome, it makes sense to then require students to take courses on such topics.  We do not mean that these topics should be add-ons to "practical ministry" or "spiritual formation" courses.  While such add-ons are helpful, they are not nearly comprehensive enough.  We can better serve our students by requiring that they spend time studying these topics.  Yes, that means we may need to reduce something else or rethink the makeup of our curricula.
Increase Pre-enrollment Advising
A good place to start with this type of education is before we enroll a student.  There is immense value in increasing the level of pre-enrollment advising that we do in the area of student debt.  Helping students firmly grasp how much debt is too much debt is vital.  At the same time, we must be willing to not admit students when it is clear that we may be enabling something unhealthy.  Yes, this will require additional time from those that work in admissions or enrollment.  However, if we embrace automation to the extent mentioned in our previous post, we may find we have more time to invest in pre-enrollment advising.
Require Students to Be Engaged in the Funding of Their Tuition
One experiment underway at Sioux Falls Seminary is requiring students to pay some portion of their tuition.  This is coupled with a new model for how we charge tuition. By requiring students to pay a portion of their tuition, we are finding fewer students ask about loans.  Perhaps the best question that we can ask a prospective student is, "How do you plan to pay for your tuition?" If the response is, "I plan to use student loans," then we must be willing to press in to the required conversations.
Limit Access to Credit
We listed this topic in our last post, which focused on cost reduction.  It deserves a spot in this list as well because limiting access to credit will require us to have better pre-enrollment communication.  While this does not fall into the traditional category of "curriculum development," it does relate to how we educate students. Pre-enrollment communication is our first opportunity to educate students and help them grasp a few concepts related to personal finance and biblical stewardship.
Large-scale Collaboration
Collaboration also made an appearance on our previous list.  It appears here because collaboration could lead to strong curriculum on the topics of personal finance and biblical stewardship.  In some ways, it already has.  As stated in a previous post, Sioux Falls Seminary, Northern Seminary, Asbury Seminary, Ashland Seminary, the Ron Blue Institute, Indiana Wesleyan University, and Generosity Monk worked together to create a course called Faith and Finances, which will be made freely available to all ATS seminaries.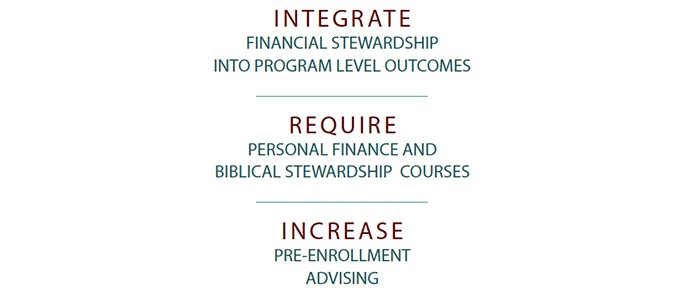 Like last week, these examples are meant to spark a conversation.  In what ways do you think we might be able address the curricular gap that exists?  Come back next week for a quick recap of the past 12 weeks!