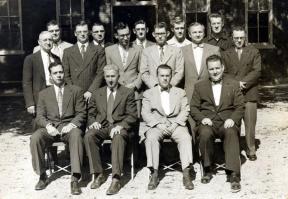 Evangelical Seminary was founded by, and took its name from, the Evangelical Congregational Church in 1953, initially to provide necessary training for clergy in that denomination. Since then its mission has expanded to include students from dozens of denominations and, through its partners, a truly global reach. Its scope has expanded to include vocational and spiritual preparation for a variety of roles that serve the Church and the world, while not neglecting the original intention to prepare pastors who are well formed in head, heart, and hands for congregational ministry.
The Evangelical Congregational (EC) Church traces its roots to the conversion of Jacob Albright, a Pennsylvania German farmer, in a Methodist class meeting. His conviction was to bring the Christian faith to his neighbors at a time when the Methodist Church did not allow worship services to be conducted in the German language. His converts took the name "Evangelische Gemeinschaft" (Evangelical Association) in 1816, and the church prospered until the 1890s when a large minority of the Association re-organized as the United Evangelical (UE) Church in 1894.
Faculty and students from the Association's Schuylkill Seminary moved to the former campus of Palatinate College in Myerstown, Pennsylvania, in 1894 and established Albright College. Subsequently, the college relocated to the nearby city of Reading in 1928 after the Evangelical Association and the United Evangelical Church merged in 1922 to form the Evangelical Church (which subsequently merged within The United Methodist Church). At the same time, the East Pennsylvania Conference and other congregations of the United Evangelical Church that had abstained from the merger reorganized as the Evangelical Congregational Church and bought the campus of the college that they had so long supported as the site for a publishing house, retirement home, and educational institution.
Throughout the Great Depression and World War II, EC denominational leaders kept alive the vision of an evangelical Wesleyan-Arminian theological seminary. In 1953 Evangelical Congregational School of Theology opened on the Myerstown campus with two full-time and three part-time professors and twelve students. The seminary received approval from the Commonwealth of Pennsylvania in 1957 to grant the Bachelor of Divinity degree (changed to Master of Divinity in 1970) and in 1979 the Master of Arts in Religion degree.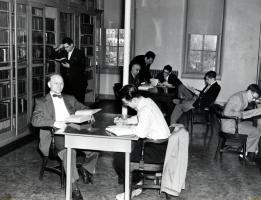 In its early years, Dean Kenneth Maurer served as dean. In 1967 the school had grown enough to inaugurate its first President, Harold H. Scanlin, a former EC Bishop. Those who have served as President are: H. H. Scanlin (1967-76), Leon O. Hynson (1977-82), Ray A. Seilhamer (1982-93), Kirby N. Keller (1993-2004), Dennis P. Hollinger (2004-08), Michael W. Sigman (2008-2011), and Anthony Blair (2011-present).